Current (old)
While 6018North is often itinerant – creating thought-provoking and compelling artwork in nontraditional spaces in Chicago and beyond – its mansion is a project in continual artistic flux. Flood damage in 2011 exposed its original structure and bones, creating unexpected and provocative pairings of historic masonry with more than a century's worth of renovations atop. In response, 6018North's artists often create work in relation to this existing structure and its history. Artists have made changes, such as adding walls and disco balls, or removing layers of paint and debris. The house is filled with site specific, risk-taking, cross-disciplinary experimentation, and collaborations. The current exhibition is Living Architecture is a large-scale, multidisciplinary exhibition, with public programming including performances, tours, workshops, and conversational dinners that highlight the influence and impact of immigrant artists on Chicago. In addition, several older installations remain on view:
Lise Haller Baggessen and Jason Pallas (2012) – collaborative installation pairs Baggessen's velvet painting Silver Lining and her glammed-out installation Self Portrait as Narcissus with Pallas' Selections of Civil Rights Images from the IEA (Institute for Encyclopedic Amalgamation) Collection. Encompassing the second floor hallway, floor, and walls, the artists combined two vastly different, yet both historical empowerment movements – glam disco culture and Civil Rights – to juxtapose various forms of social protest. The public is invited to scratch off the silver prints to reveal Pallas's historical images of protests.
Chapuisat Brothers, In Wood We Trust (2017) – a tree-top installation entered by crawling through a tunnel inside 6018North. Built entirely of wood, the large invasive structure and exhibition transforms our perception of the space it occupies and the people within it. An anarchitectural intervention, it is a deceptively playful yet dramatic utopian experiment in building community through architecture and art.
Vlatka Horvat, Door to Door (2012) – site-specific work "reinstalls" the many doors of 6018North to create a physical questioning of borders and their ability to organize space, ideas, and people. The door is a powerful part of theatre of regulating access – a servant to solitude and privacy, an invitation, chance or permission for entrance, a barrier to strangers or intruders. On the other hand, a door that's been unhinged from its frame enacts a certain abandon of the normative space and normative behavior in such a space. In the process of pushing a dilapidated mansion to be even more physically dysfunctional and yet more open, Vlatka Horvat creates a metaphor for the possibilities and/or limits of artists' intentions to affect the social relations of those who participate within public and private space. Door to Door continues the artistic interventions created for 6018North's Home: Public or Private? exhibition to question how to make public what is often considered private. Door to Door, 2011/2013 was created in cooperation with In Time Performance, and received Time Out's Critic's Pick.
Jennifer Karmin, 4000 Words 4000 Dead (2012) – 2012 words were culled from a 2008– online public poem and memorial to the 4,487 American soldiers killed in Iraq. The bathroom within the home is a metaphor to ritually cleanse the returning American soldiers.
Kathleen McCarthy, Antechamber (2015) – an installation exploring the scale and movement of humans within public spaces. Using a nearly invisible material, clear fishing line, she creates 3-dimensional drawings of architectural components intended to encourage those encountering the work to become more aware of themselves, each other, and the space around them.
Amanda Williams, Color(ed) Theory: Englewood in Edgewater (2013) – an architectural painting within the ballroom is an assemblage of colors such as Harold's Chicken Red, Ultrasheen, Currency Exchange Yellow and Pink Oil Moisturizer used by commercial establishments to sell products to African Americans.
Lise Haller Baggessen and Jason Pallas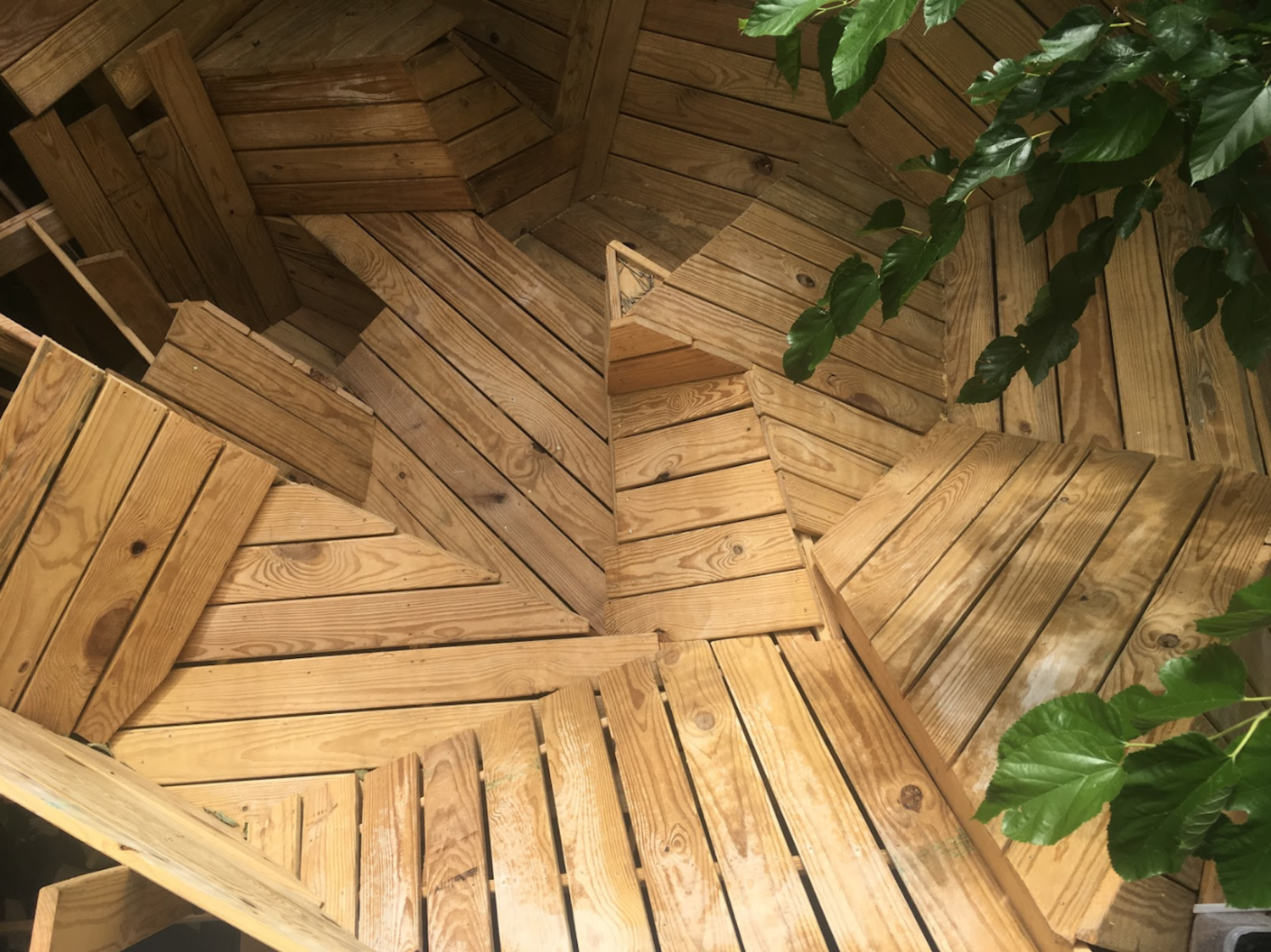 Chapuisat Brothers, In Wood We Trust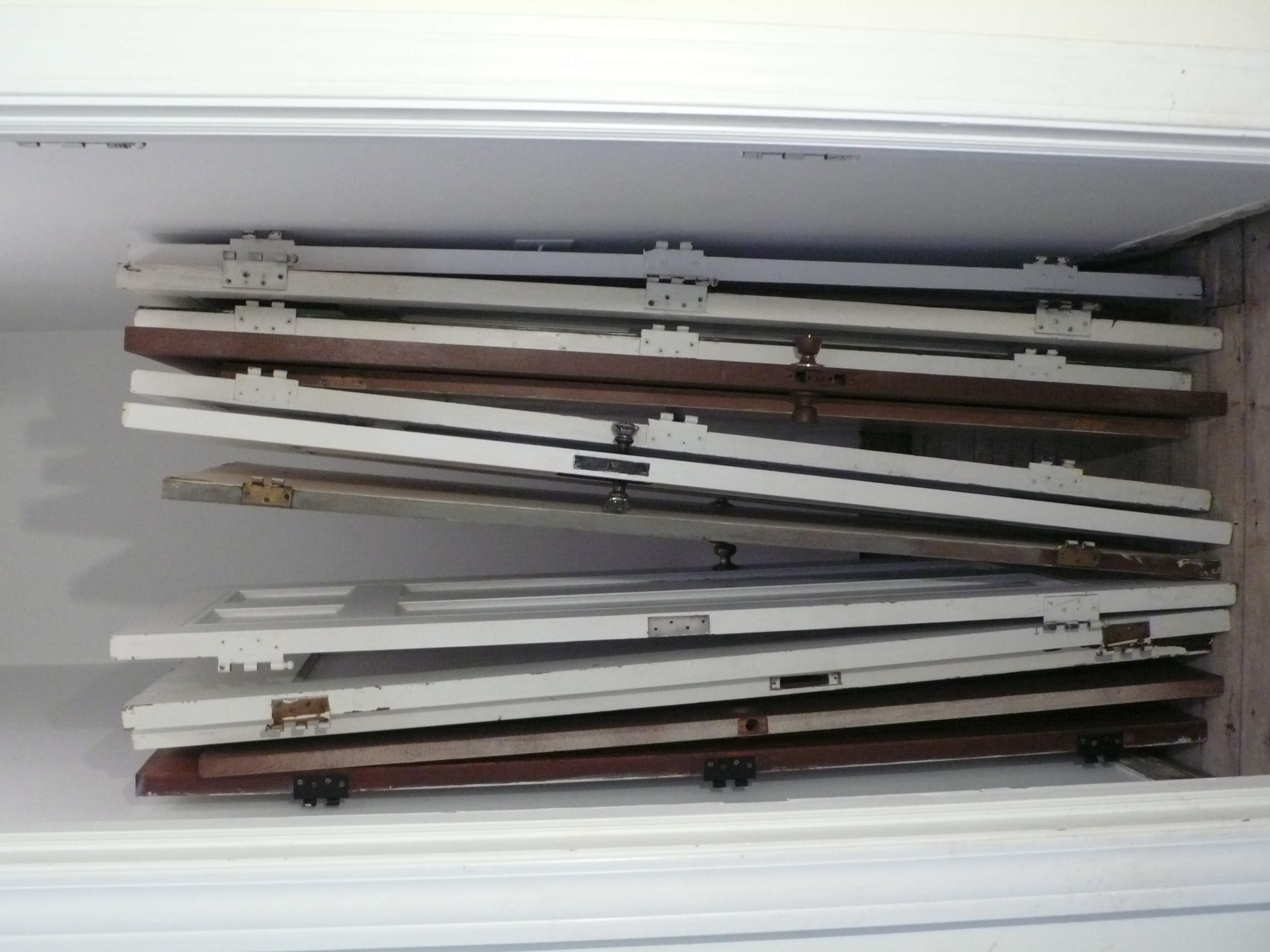 Vlatka Horvat, Door to Door
Jennifer Karmin, 4000 Words 4000 Dead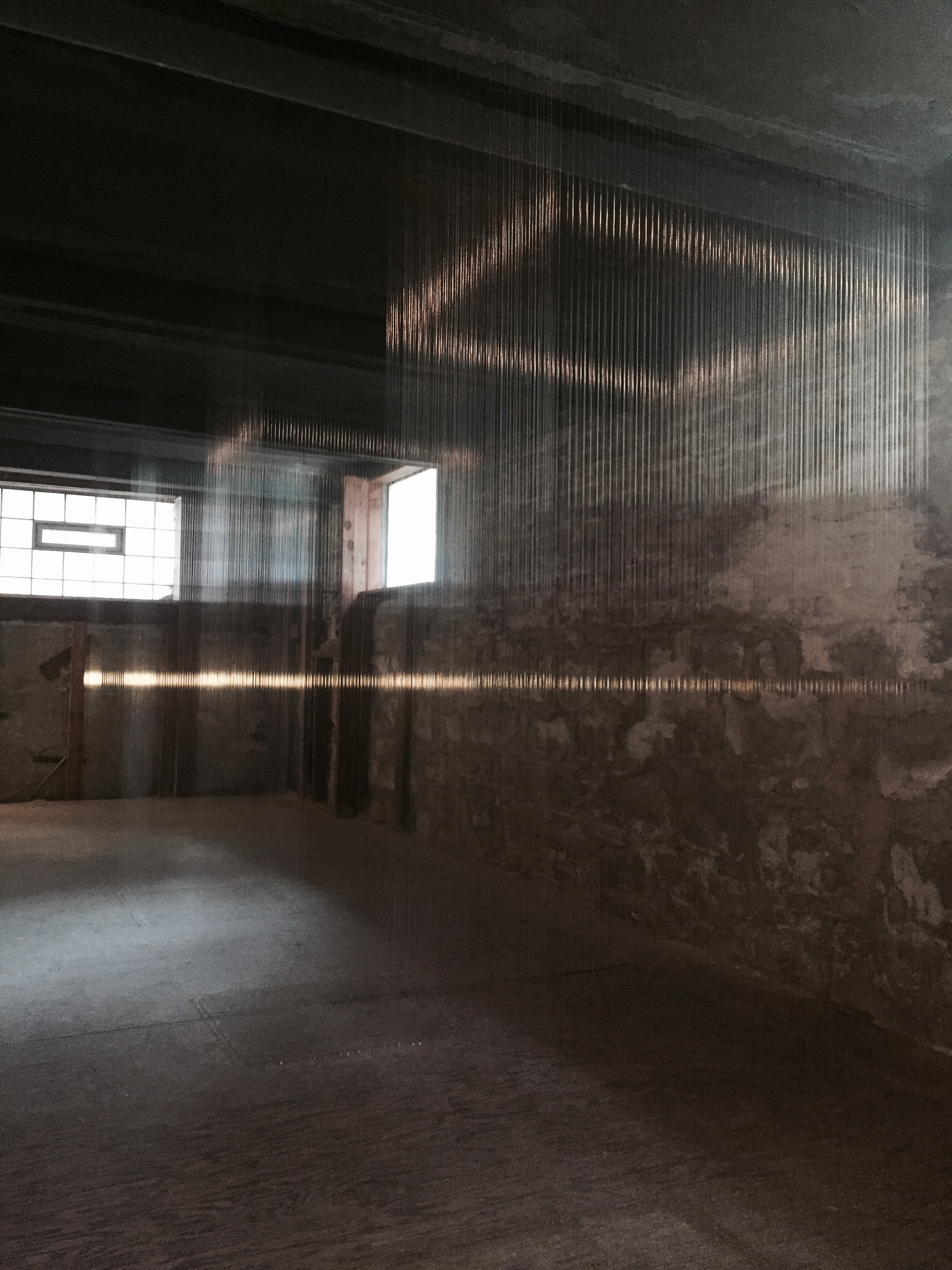 Kathleen McCarthy, Antechamber
Amanda Williams, Color(ed) Theory: Englewood in Edgewater